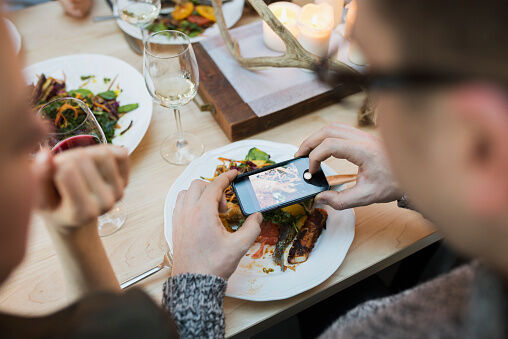 For some people, if you don't Instagram your meal, it didn't really happen. But there may be a downside to all that #foodporn. Health influencers warn that working dishes to be as photogenic and aspirational as possible before uploading them to the 'gram is adding extra calories to our meals.
Apparently no one wants to show off their realistic portion of oats, fruit and nuts because it looks sad compared to an Insta-worthy bowl loaded with chunks of dark chocolate, frozen fruit, and granola. But all those fancy finishing touches can double your portion size and add less-healthy ingredients.
Meal plan master and health influencer Amanda Meizner has been spreading the message in her posts, explaining that when you try to make your food extra pretty and overkill for the 'gram, it's no longer the proper portion. And that's helping her followers recognize the supersized stuff they see on Instagram might not be the standard "healthy" portion.
And the other thing to keep in mind is that a lot of people don't actually consume all of what they're showing off on Insta. Those tiny models probably aren't polishing off an 800-calorie bowl of proats (protein oats) or that enormous mega-milkshake in their photo. So you can't eat like someone's Instagram feed every day, but everything in moderation, right?
Read the rest of the article here.