Even though its influence has changed over the years, MTV proved that their 2017 Video Music Awards is still an important event in the spirit of spontaneous live music television. On Sunday night (August 27), some of the biggest names like Kendrick Lamar, Miley Cyrus and Fifth Harmony took to The Forum in Los Angeles to show them what they've got. From P!NK's Video Vanguard speech to Logic's stance on equality, the evening affair was full of buzz. Take a look at some of the biggest moments of the night!
Kendrick Lamar's Show Opening Was Flames -- Literally
Kung Fu Kenny kicked things off by first rapping one of his many hits from DAMN., "DNA." Though all of the songs on his latest album are hot, "DNA." is one of the standout tracks that every last one of Lamar's fans fell in love with from the first time they listened to it. After that, the Cali MC went into his other classic hit "HUMBLE."
The artist wanted to put on a hot show and he did just that. There was fire being blasted from the stage and Lamar even had a fire dancer, while he was rapping! To continue with his Kung Fu Kenny persona, there were dancers who performed martial arts moves as part of their choreography. These dancing ninjas were even climbing a fire-filled wall onstage. That's what we call a lit show! The rapper also won huge at the show! Lamar took home a number of trophies on Sunday night, including the award for Video of The Year for his stunning "HUMBLE." visual.
Miley Cyrus Proves Less Is More With "Younger Now"
Four years after her explosive twerk-filled performance at the 2013 MTV Video Music Awards, Miley Cyrus returned to the very stage that she blew up her Disney image, cementing the official 2017 revamp of the pop star we know and love.
Dressed in a blue western-esque one-piece, Cyrus appeared smack dab in the middle of the stage by herself for the introduction to the set. Even in the opening moments, you could tell that the star was in a different place than her almost-NSFW days. Performing her latest single, "Younger Now," the starlet kept things short and simple, revealing a line of background dancers of all shapes, colors and ages. Things got a got a little feisty (and retro) for a line dance, but the star's crystal clear vocals remained the true highlight of the set.
Jared Leto Pays Tribute To Chester Bennington & Chris Cornell
Linkin Park's Chester Bennington and Soundgarden's Chris Cornell untimely deaths were honored at the Sunday night ceremony with a touching speech led by Jared Leto. "MTV asked me to come here to say a few words about Chester and the late, great, Chris Cornell, two artists I had the absolute pleasure of touring with," the 30 Seconds to Mars frontman told The Forum audience.
"They were close friends with one another. Chester even singing the cover of the classic 'Hallelujah' at Chris' funeral. Chester said of Chris, 'Your voice was joy and pain and anger and forgiveness, love and heartache, all wrapped up into one.' Just weeks later, Chester himself was gone. Chester was my friend. As he was to so many. Witnessing his life taught me important things. Especially about working relentlessly, pursuing dreams, and being kind and caring while doing it. . . .If there is anyone out there who is watching this and feels like there is no hope, hear me now. You are not alone."
Logic, Khalid & Alessia Cara Dominate With "1-800-273-8255"
Logic continued his slow, but steady domination over the scene with an electric rendition of his recent smash, "1-800-273-8255," with guest collaborators Alessia Cara and Khalid. For the performance, which was appropriately introduced by Kesha, Logic took the stage mid-broadcast alongside attempted suicide survivors. With his guests, the rapper brought his hit to life, particularly with the number of the hotline gleaming from the stage and backdrop. Still, nothing was more moving than the finale when cameras panned across the venue to various survivors and let Logic showcase his voice loud and clear.
"I'm going to fight for your equality because I feel like we are all born equal, but we are not treated equal and that's why we must fight," he told the audience. "We must fight for the equality of every man, woman or child regardless of race, religion, color or sexual orientation!"
Fifth Harmony Lets It Be Known That They're A Proud Foursome
Fifth Harmony's performance at the 2017 Video Music Awards went viral from the split second that it began. The girl group took to the stage and delivered a show that will have everyone talking for a while. While onstage, the group's members first let it be known that they are now a proud foursome. At the beginning of the group's set, five girls stood on the stage. Before the first song started, the fifth member suddenly fell off. Ouch!
From there, the group began singing one of its hits "Angel." The crowd was jamming to every minute of the track, before the next song's beat dropped. "Down" soon began playing and things got a little bit more interesting. Normani slayed us when she did a split during her portion of the song, which made everyone in the audience gasp with excitement. After that, Gucci Mane came out -- along with his fiancée, Keyshia Ka'oir, who danced around next to him -- and began rapping his verse on "Down."
Lorde Dances Her Way With The Flu
It's no secret that Lorde has some exquisite dance moves. She's showed us during every single performance she's ever done ... including this year's MTV VMAs. The New Zealand native danced her way through her "Homemade Dynamite" performance, deciding not to sing ... but only because she was battling THE FLU.
First of all, to be even at this awards show with an illness like the Flu is amazing all on its own. But to actually PERFORM TOO?! Girlfriend just blessed us all. Lorde took the VMA stage in a silver dress with gray pants, and her beloved Adidas superstars as she performed an epic dance routine to "Homemade Dynamite," which is from her latest album Melodrama.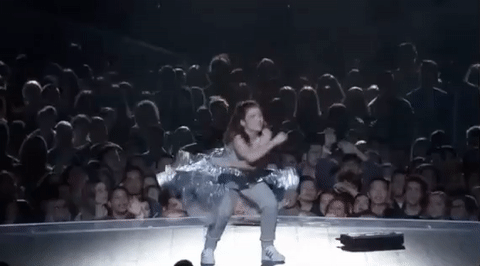 Taylor Swift Debuts Her "Look What You Made Me Do" Music Video
Taylor Swift's "Look What You Made Me Do" is officially here. Taylor debuted the visual during the MTV VMAs, and it is a masterpiece, making her lyrics come to life. "Look What You Made Me Do" is, without a doubt, a much darker song for Taylor than we're used to. And the video starts off that way, in a graveyard, looking at a tombstone with "Here Lies Taylor's Reputation" on it. Remember? "The old Taylor can't come to the phone right now. Why? Oh, cause she's dead." BUT, from six feet under, dead Zombie Taylor rises from the dead.
Then, as we move through the video, we see different version of Taylor. And the end of the video is possibly THE most iconic ending to a Taylor Swift music video you could ever imagine. We see Taylor through all stages of her career. The curly-haired Country Music Taylor, the character from her "You Belong with Me" music video (the video she won a VMA award for and got interrupted by Kanye West during her acceptance speech), that VMA-winning Taylor, Taylor from the "Look What You Made Me Do" music video, Swan Lake "Shake It Off" Taylor, and more. But the very end is what blew our minds. The last line of the whole video: "I would very much like to be excluded from this narrative." The line calls back to Taylor's response to the video that Kim Kardashian leaked of Swift's phone call with Kanye West.
P!NK'S Powerful Video Vanguard Award Speech
P!nk was honored as this year's Michael Jackson Video Vanguard Award recipient at the MTV VMAs, and also performed a stunning career-spanning medley of her biggest hits, including her most recent single "What About Us" from her upcoming seventh studio album Beautiful Trauma. The pop icon performed hits from over the course of her career, including "Raise Your Glass," "So What," "Get the Party Started," "Just Give Me a Reason" and "Perfect," ending by re-creating her stunning, choreographic "What About Us" music video with a cast of super talented dancers.
But the most touching part came during P!nk's Michael Jackson Video Vanguard Award acceptance speech. During her speech, she launched into a story about a moment with her daughter, who told her mom she didn't feel pretty and that she looks like "a boy with long hair" ... to which P!nk's response was to put together a Powerpoint presentation of "androgynous rockstars and artists, who that live their truth, are probably made fun of every day of their life, and carry on, and wave their flag, and inspire the rest of us." She mentioned artists like Michael Jackson, David Bowie, Prince, and more among this list. Ultimately, she ended with a message for her daughter saying, "We don't change. We take the gravel and the shell, and we make a pearl. We help other people to change, so that they can see more kinds of beauty."
She also accidentally broke the award...
Cardi B's Reaction to Ed Sheeran & Lil Uzi Vert's On-Stage Collab
The 2017 MTV MVAs got off to a great start. After a fiery performance by Kendrick Lamar, Ed Sheeran took the stage to help kick of the night. Ed started off his performance with his hit single "Shape of You" from his 2017 album Divide. But then, Sheeran kicked things up a notch when be brought out Lil Uzi Vert to perform a remix of the chart-topping tune.
But "Shape of You" wasn't the only song in Ed's set. Following Uzi's entrance on stage the pair moved into a collaborative performance of the rapper's current hit single "XO Tour Lif3." The crowd went wild for the song. And it seems no one was more surprised to see this duo take the stage together more than Cardi B., who performed "Bodak Yellow" at the VMA pre-show. Her reaction was everything:
Katy Perry & Nicki Minaj Close VMAs With "Swish Swish"
Katy Perry made a splash on Sunday night when the pop titan closed the show with the latest rendition of her single, "Swish Swish," alongside Nicki Minaj. During the number, the 32-year-old star hit the stage on top of an oversized basketball, which is a subtle not to the just-released video. With a string of backup dancers, who offered up a choreographed voguing routine, Perry joined in for her own moves, before the Harajuku Barbie arrived on the scene for a guest verse. In a typical KP move, the performance went into animated territory when the star was lifted into the sky with a basketball in hand and a number of balls dropped from the sky.
Rod Stewart Shows Us He Still Has It
Rod Stewart showed the 2017 MTV VMAs that he still has it with his newly reimagined version of "Do Ya Think I'm Sexy" alongside DNCE on Sunday. Fresh off the release of the track, the acts combined forces to tantalize audience members even if Joe Jonas' oversized mustache caught some folks off guard. Plus, who doesn't love a team-up that incorporates one sex icon from the yesterdays with todays?
Heather Heyer's Mom Presents Best Fight Against the System
Susan Bro, Heather Heyer's mother, also appeared at the ceremony when she was introduced by Robert Lee IV, a direct descendant of Civil War general Robert E. Lee. During her appearance, she paid tribute to her daughter, who was killed by a white nationalist during the Charlottesville protests earlier this month. "I want people to know that Heather never marched alone," she said. "She was always joined by people of every race and every background in this country." Heyer went on to reveal that MTV decided to honor all six nominees in the Best Fight Against the System category.